OMH-1
About OMH-1
Pure Nickel or Steel/Nickel type welding rods have been used for cast iron in the past. Therefore, the following procedure is generally taken in case of hardfacing welding on cast iron surface.

First, pure Nickel or Steel/Nickel type welding rod is used for underlayer welding and hardfacing welding rod is used on top of that.

However, there is weak point that Nickel is austenite and soft composition and the hardness does not get stable if multilayer welding is not applied as it is effected by Nickel on hadfacing welding.

In Japan, a hardfacing welding rod (for instance our MH-1) which does not contain Nickel and can be used for direct welding on cast iron was put in practical use for edge preparation on automobile press mould.


OMH-1 is for direct welding on cast iron and was newly developed to use MH-1 with MAG welding for hardfacing.

As OMH-1 is solid wire, it can be used for automatic welding by robot.

OMH-1 is used by number of automobile maker with automatic or semi-automatic welding and is it mounted on robot some cases.

As stated above, OMH-1 (MAG welding wire) takes a very important role for manufacturing automobile press mould and its features are;


Welding speed is 3 to 5 times higher than manual welding rod.
Welding quality is substantially superior to manual welding rod.
Welding cost is 1/2~1/4 compared to manual welding rod.
As stated above, better quality, high speed and low cost welding will be available by using OMH-1 for welding cast iron.
The brief overview of OMH-1 is as follows.
Performance of OMH-1
OMH-1 is a solid wire for MAG welding which made direct edge preparation on cast iron possible.

The features are;

Edge preparation on cast iron is possible with one type of solid wire.
Stable predetermined hardness is available with 3-pass/2-layer.
Applicable to full automation.
Less spatter and good appearance of bead.
Edge preparation used with OMH-1 direct solid wire on cast iron enables HRC55~60 hardness with 5C beveling and 3-pass/2 layer welding and is also applicable to full automatic operation combined with robot.
Contribute to the customers who are considering cost down for edge preparation.
Performance of OMH-1 is shown in the below.
---
The surface hardness is measured after build up welding with welding procedure shown in the Table-1 on FC300 cast iron base metal (25×50×100L)

Result is shown in Table-2
【Table-1 Welding condition】
Wire
Diameter
1.2mm
Base metal
FC3000
Power source

DAIHEN DP-350

Pulse condition
Mild steel pulse range
Current/Voltage
80Amp・23V
Shield gas
Ar+20% CO

2

Interpass temperature
Below 150℃
-
-
【Table-2. Number of welding layer and hardness】
Build up method
Measurement method
1
2
3
4
5
Average

Rockwell
(HRC)

47.8
54.9
52.8
54.5
53.5
52.7
Rockwell
(HRC)
55.3
54.5
54.1
54.6
55.5
54.8
Rockwell
(HRC)
57.2
56.9
56.4
57.2
58.4
57.2
Rockwell
(HRC)
50.9
53.3
51.5
52.2
51.2
51.8
---
The test is conducted with automatic welding after machine work of C surface 4.5 to FC300, 100x400L square bar.

The result is shown in Table-3

【Table-3  Welding conditon】
Base metal
FC300
Current/Voltage
80Amp23V
Power source/
Pulse condition
DAIHEN DP-350
Shield gas
Ar+20%CO

2

Angle of advance
5°
Build up procedure
Peening
Non
Welding pass number
Welding speed
Torch angle
1
260 mm/min
55°
2
260 mm/min
65°
3
285 mm/min
55°
---
The hardness was measured on cross section after cutting.

The result is shown in Figure-1.
| | |
| --- | --- |
| Hardness tester | Micro-Vickers hardness tester |
| Loading | 1kg |
| Measurement location | |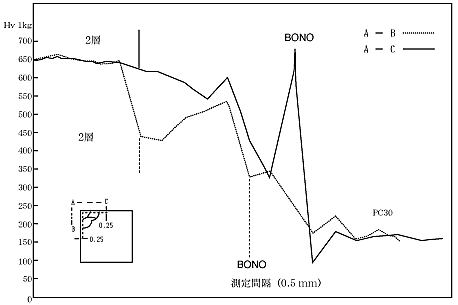 【Figure-1. Cross section hardness】
---
Build up welding on cast iron with OMH-1 firms up hardness (HRC57) by 2-layer/3-pass welding.  Moreover, extremely less variation in hardness

No crack on weld metal.  Also, no emergence of blowhole.
---
Use Ar+20%CO

2

for shield gas.
Use pulse MAG welding machine (e.g. Daihen DP-350)
Apply 80~90A current and 21~23V voltage for 1st layer on cast iron.
One size (1.2Ø) is available for OMH-1
---
5.Comparison with manual welding as for press mould welding
Comparison with manual welding rod for press mould welding is shown in Table-4.
【Table-4.  Comparison between wire and manual welding electrode】
Wire
Covered arc
electrode
For high hardness build up
(MH-61S)
EA600W
For repair and build up on cast iron
GN-55SN
GRICAST31
For direct build up on cast iron
OMH-1
MH-1
Direct build up on cast iron (about HRC40)
MH-400S
MH-100S
For welding flame hard steel
MH-5S
MH-5